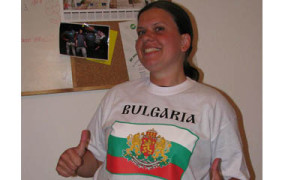 Nota: ONCR este organizatie acreditata pentru trimitere si gazduire de voluntari EVS.
we need one volunteer for approved project "Volunteer Initiatives in Lovech – 2". The main objective of the project is related to enhancement local community's capacity for implementation of youth volunteer initiatives at local and international level. The project will be implemented in the town of Lovech, Bulgaria. EVS volunteers will help Ecomission team in daily administrative activities, organizing events, developing new projects and initiatives with their fresh ideas. We expect from them to present native traditions and culture through organizing national eves and developing local youth interests in introducing new cultures. We expect their own creative, artistic, sport ideas for activities directed to local youth and etc. THE PROJECT WILL LAST 9 MONTHS 1ST MARCH-1ST DECEMBER, 2013
Please send CV and Motivation letter in English before 20 February, 2013. Please in your motivation letter to describe your motivation to participate and to answer the following questions:Why are you applying to participate exactly in this project; How your qualification and previous experience are related to the tasks that you will have within the project.
PLEASE CONTACT US AT:  ilrai78@abv.bg