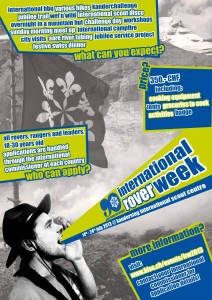 ONCR cauta 2 persoane (seniori sau tineri lideri cu varsta intre 18 si 30 de ani) care doresc sa participe la  "International Jubilee Rover Week 2013" care va avea loc la Kandersteg International Scout Centre in aceasta vara.
Rugam persoanele interesate sa ne trimita CV-ul lor in format Europass si o scrisoare de intentie in engleza la adresa international@scout.ro pana la data de 26 mai 2013.
Costurile de participare sunt taxa de 350 franci elvetieni si 50% din transport.
In 1923 it all started and by now, more than 1 million Scouts and Guides from all over the World have visited KISC and experienced the magical spirit here in the Swiss alps.
We take the 90 years as an occasion to celebrate. Celebrate Scouting and Guiding, celebrating living the dream of international friendship at this amazing place. Therefore we plan several events in Kandersteg during the year. Please have a look at our webpage www.kisc.ch to find more information on those events soon.
We would like to introduce you to the "International Jubilee Rover Week 2013" from 14th – 24th July 2013. We invite 90 Scouts and Guides between 18 – 30 years old, representing at least 45 different countries to participate in this 10 days event.  The costs for the whole package (overnight, programme activities and food provided) are 350 CHF, travel not included.
To ensure the international spirit of the event, we will only accept two participants per nationality. This is where you come in to play an important role.
–        Find more information here: www.kisc.ch/events/irw2013
We need your support to make the event a successful one!